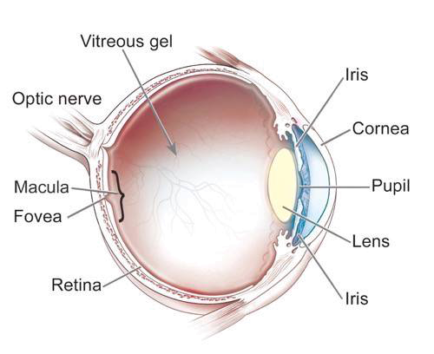 Source: National Institutes of Health (NIH)
EYES STRUCTURE & ITS FUNCTIONS

Although the eyes are small compared with most of the body's other organs, their structure is incredibly complex. Before taking a look at how the eye works, let's start with a basic overview of structures that make up the eye and its function.
» show more
Part of the Eye
Functions
Cornea

The clear, dome-shaped surface that covers the front of the eye

Allows light to enter eye

Iris

The coloured part of the eye

Controls the size of the pupil

Pupil

The opening in the centre of the iris

Controls the amount of light that enter the eye

Lens

Composed of transparent, flexible tissue

Helps to focus light and images on your retina

Retina

The light-sensitive tissue that lines the inside surface of the eye

"Photo receptor" cells and the retina converts light into electrical impulses

Optic nerve

A bundle of about one million nerve fibers

Carries electrical impulses to the brain

Macula

The small sensitive area in the center of the retina

Provides clear central vision

Fovea

Located in the centre of the macula

Provides the sharpest detail vision

Vitreous gel

The jelly like substance that fills the inside of the back part of the eye (in between the lens and the retina)
References:
1. American Foundation for the Blind.
2. National Eye Institute.
» show less
HOW THE HUMAN EYE WORKS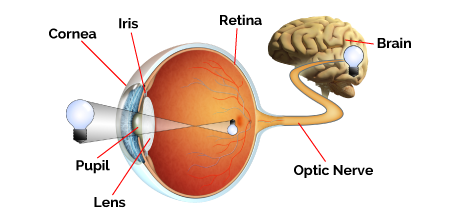 1
---
Light rays enter the eye through the cornea, the clear front "window" of the eye. The iris of the eye functions like the diaphragm of a camera, controlling the amount of light reaching the back of the eye by adjusting the size of the pupil automatically.
2
---
The pupil dilates (enlarges) and constricts (shrinks) like the aperture of a camera lens as the amount of light in the immediate surroundings changes. In dark conditions, the pupil widens. In bright conditions, the pupil constricts.
3
---
After passing through the iris, the light then goes through the eye's natural crystalline lens. Just like the lens of a camera, the lens of the eye focuses the light or an image onto the retina. The lens becomes thicker to focus on nearby objects and thinner to focus on distant objects.
4
---
The retina acts like an electronic image sensor of a digital camera, converting optical images into electronic signals. The optic nerve then transmits these signals to the brain.
TIPS FOR AVOIDING EYE PROBLEMS


Your eyes are an important part of your health. There are many things you can do to keep them healthy and to ensure you are seeing your best.
Follow these simple steps for maintaining healthy eyes and avoid having eye problems well into your golden years.

» view references
References:
1. National Eye Institute. Simple Tips for Healthy Eyes.
2 .Everyday Health. 9 Simple Ways to Keep Your Eyes Healthy.
3. WebMD. 10 Tips for Healthy Eyes.
» hide references