1200
OCCUsharp
OMEG-3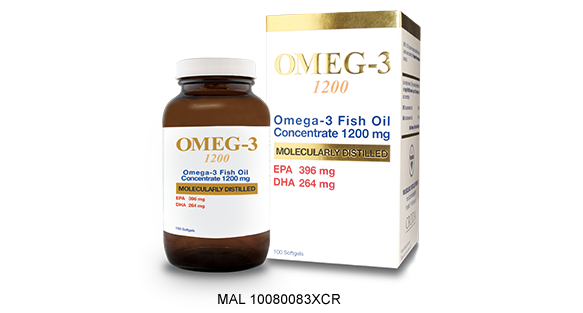 The High-Strength EPA & DHA Omega-3 Fatty Acids Supplement to Protect Your Body.
Marine fish oil is one of the world's best known sources of Omega-3 fatty acids Eicosapentanoic acid (EPA) and Docosahexaenoic acid (DHA). EPA and DHA are good fats that our body requires for rebuilding and maintaining body cells, as well as regulating many other normal body functions.
EPA is also used in the production of DHA.
Our body is unable to manufacture Omega-3 on its own and thus, must be obtained externally from our diet or from supplementation.
FEATURES

OMEG-3 1200 is formulated with high EPA and DHA levels up to 55% Omega-3 fatty acids. It contains high strength of regular fish oil supplement with 396 mg EPA and 264 mg DHA per softgel to give 660 mg Omega-3 fatty acids.
OMEG-3 1200 high quality fish oil is manufactured using PureMax™ Technology by CRODA, UK that has undergone multiple purification stages to remove toxins such as:
Heavy Metals (Lead, Mercury, Cadmium, Arsenic)
Dioxins
PCBs (Polychlorinated Biphenyls)
PureMax™ Technology ensures purity & safety of fish oil for consumption.
Our fish oil is specially sourced from smaller fish species (such as anchovies and sardines) with shorter life-span – thus, are therefore naturally lower in environmental toxins.
Besides that, OMEG-3 1200 softgels are sold in amber glass bottles which help block out ultraviolet (UV) rays. Glass offers better barrier protection against moisture and oxygen for better safety and quality.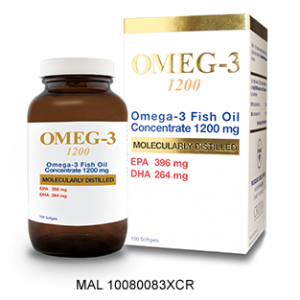 » view references

References:
1. Puremax.com

» hide references
This is a supplement product advertisement.