Age-related
Macular Degeneration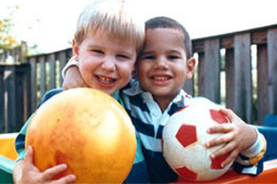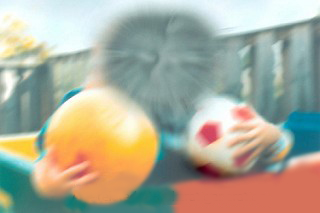 The same scene as viewed by person with AMD
Source: National Eye Institute
OVERVIEW 


Age-related macular degeneration (AMD) is a chronic eye disease that causes you to lose central vision. It occurs when there's deterioration or breakdown of the tissue in the macula, the part of your retina responsible for sharp, central vision. The macular gives you the ability to clearly see fine details. As AMD progresses, the central vision is distorted or blurry and, over time, the blurred area may grow larger or you may develop blank patch in the center of your vision. AMD does not affect your peripheral vision (side vision), which means it will not cause complete blindness. However, central vision loss in AMD can affect your daily task, such as driving, reading, ability to recognize face.
There are two main types of AMD: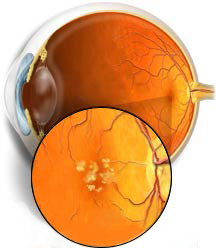 Dry Macular Degeneration
Dry AMD is the more common type of AMD. Dry AMD develops when the cells of the macula become damaged by accumulation of yellow deposits, called drusen. A few small drusen may not cause any changes in vision. But as they grow larger in size and increase in amount, they may cause distortion of vision. In late stage of AMD, there is also thinning of the light-sensitive cells in the macula, leading to atrophy or tissue death. These changes cause vision loss.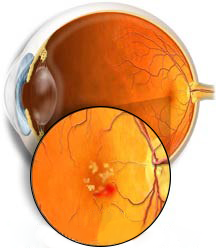 Wet Macular Degeneration
Wet AMD – also called neovascular AMD – develops when abnormal blood vessels form underneath the macula. Neovascular literally means new vessels. These vessels can leak fluid and blood, which may lead to swelling and damage of the macula. The damage may be rapid and severe, unlike the more gradual course of dry AMD. Without treatment, vision can deteriorate within days. These abnormal blood vessels and their bleeding eventually form a scar, leading to permanent central vision loss.
Source: Association of Malaysian Optometrists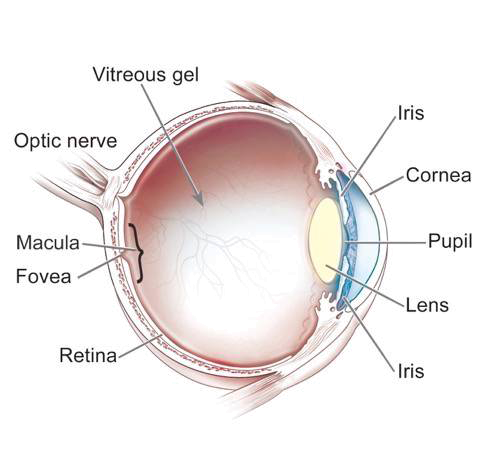 Source: National Eye Institute
THE MACULA 


The macula consists of millions of light-sensing cells that provide sharp, central vision. It is the most sensitive part of the retina, which lines the interior of the back of the eye. Macula focuses the light and the retina changes light into electrical signals. These electrical signals are then sent through the optic nerve to the brain, where they are translated into the images we see. When the macula is degenerated, your central vision may become increasingly blurred and distorted.
» view references

References :
1. National Eye Institute. 2016. Age-Related Macular Degeneration Overview.
2. MedicineNet. 2016. Definition of Macula. 

» hide references